The Martial Law in Lublin 1981–1983
Reactions in Lublin
The introduction of the martial law caused a wave of protest in workplaces. In Lublin, the strikes broke out in about 50 facilities, among others: WSK Świdnik, FSC Lublin, LZNS Lublin, and Lublin universities. In the night from 15 to 16 December, forces of militia and the army liquidated a strike in WSK Świdnik, later the same thing happened in FSC Lublin and many other facilities. A wave of arrests started.

When the martial law was announced, radio and TV transmission was paused. People were subjected to permanent disinformation. From TV and radio speakers one could hear only general Jaruzelski's voice anouncing communicates to the citizens. What was the situation in Lublin radio like? – memories of a deputy director Stanisław Fornal: The whole radio had already been occupied by the army. They were these army commissioners. We were segregated into two groups. The ones who had something to do with "Solidarity" got some papers ordering them to go on a leave of unlimited duration, and we all, who were not on the other side, had to be on duty. And so we were. These were very gloomy times. I can be thankful to my boss that he did not give me assignments to prepare those "anti-strike" auditions. Unfortunately, my friends from the radio news office practically all had to take part in preparing auitions that were played from the cars somewhere at the gates of FSC Świdnik, Agroma...
The Interned
Till the 31 December, 1981, 138 people were interned in Lubelskie Voivodship, 120 in Zamojskie Voivodship and 74 people in Chełmskie Voivodship. By the suspension of the martial law, at the end of 1982, 220 people altogether had been interned from Lublin Voivodship. In the area of Lublin Region there were internship centres in Włodawa, in Krasnystaw, in Chełm and in Lublin at Południowa 5 St. The centre in Włodawa, in which 367 people were interned, played the biggest role.
Those tragic events did not break the resistance of Polish society. In Lublin the underground "Solidarity" organized help for families of the interned and manifestations. In Świdnik the underground "Solidarity" was famous from broadcasting programmes of radio "Solidarity", and famous "Świdnik walks" went down to posterity.
The Participants of the Events
Memories concerning the moment of introducing the martial law itself and its period are available in Oral History Base. You can read there, among others, relations of:
– Mariusz Pałka ( "If people won't go away, use your weapons" , The Constitution of May the Third's Monument on the Litewski Square),
– Stanisław Fornal (The whole Poland heard gen. Jaruzelski's voice),
– Krzysztof Michałkiewicz (We took over the factory printing press, they took me to Północna St and put in prison cell),
– Andrzej Mathiasz (I woke up and there was martial law, You were in one cell with the thieves and it was a normal thing),
– Krzysztof Borowiec (During the martial law "Cudowna Historia" was created),
– Alina Rynia (When the tanks were driving past, the whole block was trembling, People were surrounded by a cordon of ZOMO military police),
– Jakub Mammes (While I was a rector, the martial law was introduced),
– Kazimierz Bronisz (I was given a uniform similar to that of ZOMO),
– Krystyna Turska (Shortly speaking, we woke up in a completely different reality),
– Wacław Tadeusz Budynkiewicz (During the martial law I was called to "the top" , Demonstrations during the martial law),
– Krystyna Mateuszuk ("We won't go. The martial law"),
– Alfred Bondosa (WSK was very well prepared , Hiding, The martial law in my life),
– Michał Kasprzak (When the martial law was introduced, I was in Dęblin, I took part in one of the demonstrations),
– Maciej Sobieraj (I remember one such protest, Editors of the Bulletin worked at Królewska St for the whole night).
Everyday Life
Everyday life during the martial law brings two most important associations: queues and coupons. As Andrzej Mathiasz reminds us: Everyone knows what everyday life was like. It was gray, dull and colorless and it triggered some strange instincts in people. Everyone knows that nothing was available, one could not buy anything in shops, and even if, there were huge queues to buy it... A queue – or a line, it is a line of people standig one behind another in a place where "something is given" (where goods and services are distributed). A queue is a kind of deal, made by people waiting for something... But a deal may be transgressed. Then one can hear a yell: "You didn't stand here!". Queues are a proof that planning is inadequate, that there are not enough places where goods are distributed, that distribution time is insufficient in comparison to needs and that there are not enough goods. In Poland, queueing became a sophisticated practice; inventions such as making queueing registers and checking them or queueing as a service (for which you sometimes had to pay) became a common thing.


Henryk Pielach remembers: During the martial law, everything in shops was available only if you had coupons. Even if you had them, you still had toqueue. Sometimes you had to start queueing well at dusk to get something... Coupons – or else gift tokens – were a way of distributing and selling goods those days. Coupons attributed a maximum amount of goods of a given kind that a consumer could buy at a certain time. Coupons provided for the minimum of goods, mainly food products. Coupons were present in Poland during the German occupation and right after the war till the end of 1948. They were re-introduced in the first half of 1951 and were cancelled out at the beginning of 1953 (right after a pay rise from 3 January 1953). In 1970s coupons for sugar were sometimes introduced, and since 1981 other products, especially food ones, were distributed through the coupons' system.
Independent Culture
Lublin independent culture circles concentrated mainly around the Chatka Żaka centre and its director, Kazimierz Iwaszko. It was there where alternative theatres had a great place for their artistic activity. The artistic circles had many contacts with the opposition, so they had acess to underground information and press.

Andrzej Mathiasz remembers: I was associated with theatrical culture. At that time there were three theatres in Chatka Żaka: Scena 6, Grupa Chwilowa i [Teatr] Provisorium. These theatres were creating a climate of independent culture. We had neverending problems with censorship, as given artistic product had to be shown to them and they allowed, or not allowed, to present it in public. Of course we have always tried to evade ensorship and cheat them, but we were not always successful... It was a voice of the generation of that time, I can say that without hesitation.

Krzysztof Borowiec: During the martial law "Cudowna historia" ("A Wonderful Sory") was created, a play in which less and less texts were given from our side. We did it not to go crazy. We used to meet every day during the martial law, of course those, who were not restrained at the moment, or whose houses were not being searched at that time. But we were trying to meet quite regularly. We could still work in Chatka Żaka then.
A big role was played in Lublin, as early as since the 1970s, by the underground, independent publishing movement. Only thanks to underground printing rooms it was possible to publish such periodicals as "Spotkania" or "Miesiące", and many other underground publications from the martial law period.
The Martial Law in Iconography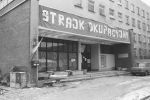 Photographic records and graphic materials from the martial law period are very rare and valuable. In the Memory of Place portal resources it is worth to see, among others:
– Sławomir Smyk's collection (photos of, among others a burglary in "Solidarność" headquarters in Lublin and from facilities which were on strike),
– Norbert Wojciechowski's collection (am. others opposition leaflets, envelopes of the interned people's correspondence, opposition banknotes),
– Piotr Choma's pictures (am. others of 1st May marches in 1982),
– Jacek Kmieć's photos (student strikes in 1981).
Mini-lectures
The martial law in Lublin Region Marcin Dąbrowski (IPN Lublin).
Repressions started in the December night of 13 December 1981, despite their shock and brutality, did not break the spirit of opposition of the Polish society. In less than twenty hours after introducing the martial law, an underground Temporary Region Board of "Solidarity" (Tymczasowy Zarząd Regionu "Solidarności") was established in Lublin...
A virtual walk
Take part in a virtual walk around places that became symbols of opposition and resistance against the authorities during the martial law period.