Józef Łobodowski (1909–1988). ENGLISH VERSION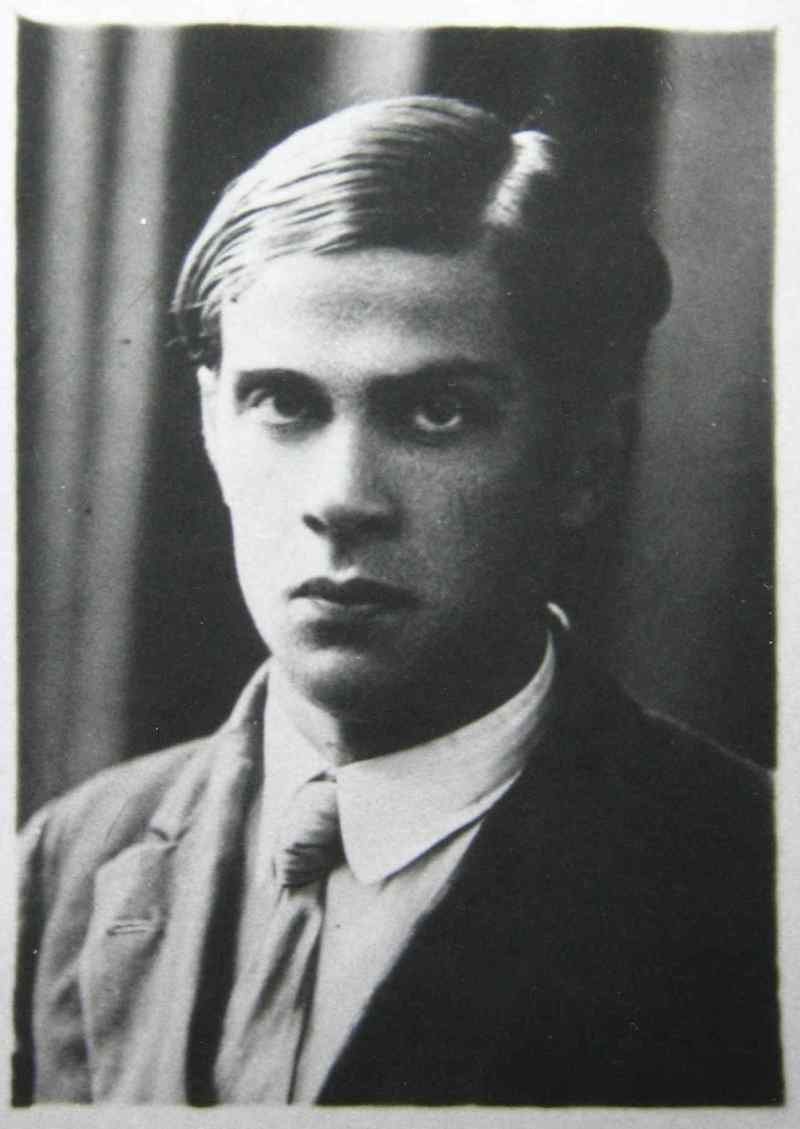 Next after Czechowicz leader of the Lublin avantgarde. He led a vivid rebel's life and was famous for numerous wrangles and acute opinions. A standing-out poet, prose writer, publicist and translator. He was also a boxer. In his writings he included motifs of Lublin and Lublin Region. He was an unmatched eulogist of Ukraine, devoted to the Polish-Ukrainian problem. Due to this fascination in the East he was given a nickname "Ataman Łobodi". In his literary output, translations of Ukrainian and Russian literature into Polish played a vital role. On the other hand, after his stay in Spain, where he had worked in Radio Madryt, he became a lover of this culture and of Gypsy romances and ballads.


Place and Date of Birth
He was born on 19th March, 1909 in Purwiszki in Suwalszczyzna (Sejny poviat). His parents were Władysław (not Józef, as is mistakenly written in Słownik współczesnych pisarzy polskich and other publications after it) Łobodowski and Stefania from Doborejko-Jarząbkiewicz family. His father was an officer in Russian army. He had two sisters: Janina (who died as a child) and Wanda, married name Tomankowa (she lived in Lublin until 18th September, 1988).
Childhood
Józef Łobodowski spent his early childhood in Lublin. In 1914, after the first world war broke out, the future poet's family was evacuated to Russia. He lived in Moscow to 1917, then he moved to North Caucasus, where he settled in Jejsk. There young Józef started attending a Russian secondary school. Soon after that the future poet's father and older sister, Janina, died – he in the revolution, she in a transport to Poland.
In 1922 Stefania Łobodowska with children, Wanda and Józef, comes back to Lublin, where Józef continues his education in a renowned Secondary school of Jan Hetman Zamoyski. In 1928 he becomes an editor in a school magazine "W słońce". It is a fortnightly review of literature, art, science and life published by young students of the school interested in literature.
Debut
Poverty in which his family lived made the future poet seek for different ways to earn a living: he worked in a post office, telgraph office, and gave private tutorials. He published his first poetry tome for his own money Słońce przez szpary (Sun through the gaps), (Lublin 1929) and sent it to Julian Tuwim, who objectively commented it, reviewed and encouraged the poet to continue writing. The second tome was entitled Gwiezdny psałterz (Star prayerbook), (Lublin 1931). Apart from writing his own poems, the artist started to translate Ukrainian poems and songs into Polish (as well as Russian and Belarussian ones).
University Times
In 1931 Łobodowski obtains his Matura certificate and starts law studies in the Catholic University of Lublin. In years 1931–1932 he publishes new poetry books. They are: W przeddzień (The day before) and O czerwonej krwi (About red blood) – the latter was confiscated as an insult for religion and morality. In those times Łobodowski's name, together with those of Józef Czechowicz, Franciszka Arnsztajnowa and Kazimierz Andrzej Jaworski, figures on the founder's list of Lubelski Związek Literatów (Lublin Literate's Association).
Student's way of life does not last long for the young "rebel poet": he is expelled from the university for manifesting his radical political views on 5th February, 1932. Although these circumstances will disable him from ever graduating, they will not affect his further literary output.
Young Lublin literates gather around the poet's good friend,
Józef Czechowicz
, and when he moves to Warsaw in 1933, Łobodowski follows him, renting a "shared room" in Powiśle at Dobra 9 St. together with Henryki Domiński, Stanisław Piętak, Bronisław Michalski and Wacław Mrozowski. However, the author of
Uczta zadżumionych
(
Plague-stricken feast
) does not often stay under this address, as in years 1933–1934 he serves in the army in Szkołą Podchorążych (Officer Cadet School) in Równe, he has a lot of duties as an editor in Lublin, and, what is more, he gets married with Jadwiga Kuryłło (marriage ceremony in Lublin Cathedral on 1
st
March, 1938. The marriage lasts for two years, the Łobodowskis do not have children) and lives in another part of Warsaw.
Lublin "Enfant Terrible"
Łobodowski is remembered as the most active person in Lublin literary circles. It is him who, at the beginning of 1930s, set up and for a short time edited two radical cultural magazines, "Barykady" (1932) and "Dźwigary" (1934–1935). We can see him in the editorial staff of 'young democracy magazine "Trybuna" (1932–1934). In pre-war period he gets most famous for two poetry books: Rozmowa z ojczyzną (Talk with home country) (Lublin 1935, second edition Warsaw 1936) and Demonom nocy (For the demons of night) (1936); the latter receives a Youth Prize of the Polish Academy of Literature (Polska Akademia Literatury).
At this time, Łobodowski moves away from his former comrades from the left. As a poet he gets closer to the second avantgarde circle, catastrophists and the Vilnus "Żagary" group. However, he does not break ties with Russian literature to which – as a poet – he owes a lot. In mid 1930s he publishes the second tome of translations under a symptomatic title U przyjaciół (At friends') in "Dźwigary" Poetry Library (Biblioteka Poetycka "Dźwigarów"). In the book we can find his translations of poems by Lermontow, Błok, Jesienin and Majakowski. In Author's preface he admits that he had chosen works emotionally important to him. However, due to the printing costs he had to resign from poems by: Niekrasow, Wołoszyn, Gumiliow, Puszkin, Briusow and Pasternak.

Critics such as: Ostap Ortwin, Tymon Terlecki, Ludwik Fryde, Kazimierz Wyka approvingly comment the visionary, prophetic and symbolic characters of the poems.
In 1937 Łobodowski creates and publishes Lublin political nativity scene, he also revives, for a short time, "Kurier Lubelski", as a continuation of a newspaper from years 1906–1913. Invited to Łuck by the voivode, Henryk Józewski, the literate establishes a weekly magazine "Wołyń" (1937–1938), devoted to problems of the eastern lands of Poland and opposing the national government policy towards ethnic minorities. The approval of this proposal is not accidential: Łobodowski was fond of his "childhood country" and had long been interested in Ukrainian problems, condemning in his articles Polish authorities repressive measures towards the Ukrainians and propagating reconcilliation of the two conflicting nations. At that time he publishes a few poems concerned with Ukraine, which were later published in emigration tome Złota hramota. He came back to Ukrainian subjects many times. He is considered to be the continuator of the Polish romantic Ukrainian literature. Among friends he gets a nickname "ataman Łoboda".
War Period
In the last days of August 1939 Łobodowski's soldier-errand epic begins. As a soldier, he fights in Wiśnicz, Łańcut, Bolechowiec. After the capitulation he gets to Hungary, when he is imprisoned in an internship camp. He writes his first war poems there, under the title Z dymem pożarów (With smoke of burning houses). They will later be published in 1941 by Samuel Tyszkiewicz's Printing House in Nice.
Łobodowski escapes the camp, crosses the border illegally and on 10th November he is in Paris. In February 1940 he is arrested, then released to demobilization camp in Notre Dame de Livron near Toloise. There, he illegally publishes a monthly magazine "Wrócimy" ("We Will Be Back") – 10 numbers, 60–80 pages each, sophisticated drawings, containing interesting and accurate articles on the current situtation. In August 1941 he gets to Spain, attempting, as he said, to go via Portugal to England, to Polish military force. He is arrested on his way and spends one and half a year in prison in Figueras ("Poezja" 1988, no. 5). After release he stays in Madrid. He becomes the main propagator of Polish culture in this country, publishes few hundred articles about Poland and is often asked by the media for opinion on Polish issues.
Spain in the Poet's Life
In mid 1940s Łobodowski publishes 2 books in Spanish: Por nuestra libertad y vuestra (Madrid 1945) i Literaturas eslavas (Madrid 1946). From 1949 to 1974 (some sources say that to 1975) Łobodowski cooperates with Polish section of Radio Madrid. This productive writer gives Polish literature translations of Spanish writers works: Lope de Vega, Tirso de Molina, Celderon de la Barka, Jose Sorillo, Garcia Lorka, San Juan de la Cruz, J.R. Jimenez, and many others. However, he does not accept the citizenship of this country. "I will not tell you: my second home land, because homeland is not an exchange cheque", he writes.
He is author of publications in emigration magazines, such as London "Wiadomości" (he has his own column named Worek Judaszów – Judas' Sack), "Orzeł Biały", also Paris "Kultura" and "Zeszyty Historyczne". He often visits Paris and London, where – seen as one of the most poplar writers – he plays a substantial role in emigration's literary life. As it turns out later, his stay in Spain until his death leaves a trace of translations from Spanish poetry which are not known in Poland.
Emigration
Almost half century does Józef Łobodowski live abroad, not seeing his home country, his mother nor sister. He lives with literature – every day more and more, and politics – every day less. He publishes eleven tomes of poetry and seven of prose novels. In 1947 Modlitwa na wojnę (London), is published, then Złota hramota (Paris 1954), Uczta zadżumionych (Paris 1954), Pieśń o Ukrainie (Paris 1959), Kasydy i gazele (London 1961), Czerwona wiosna (1965), Terminatorzy rewolucji (1966), Nożyce Dalili (1968), Jarzmo kaudyńskie (London 1969), Rzeka graniczna (1970), W połowie wędrówki (London 1972), Dwie książki (Paris 1984), Mare Nostrum (1986), Pamięci Sulamity (Toronto 1987), Rachunek sumienia (Paris 1987), Dytyramby patetyczne (London 1988). In addition to the above-mentioned "tetralogy" about Józef Zakrzewski, Łobodowski publishes another three-tome novel based on his own memories from his childhood in Ukraine in times of revolution and civil war: Komysze (1955), W stanicy (1958) and Droga powrotna (1961). For his literary output he was honoured with the prize of "Kultura" in 1961.
Output
Łobodowski's rich poetical output has not been available for people in Poland until today. Previously, his works were a subject of studies of contemporary Polish literature researchers: in Toruń – Janusz Kryszak's, in Katowice – Tadeusz Kłak's, in Lublin – Ludmiła Siryk's and Jerzy Święch's, in Cracow – Ryszard Łużny's. Marek Zaleski wrote a lot about Łobodowski in his book Przygoda drugiej awangardy (Second Avantgarde's Adventure) (Ossolineum 1984) and Irena Szypowska.
It turns out that Łobodowski's output cannot be omitted if we talk about Polish poetry issues, both concerning period between the wars and after the second war. Łobodowski has an important place there.
Spending most of his hard-working life on emigration, he did not become famous, as many other emigrant authors. We can judge from it that the poet did not seek fame, but rather tried to fulfill duties he felt particularly destined to. More often than success he experienced bitter failure, however, he remained himself to the end, in accordance to values he never betrayed. He did not consider literature worth giving life to it, he did not care – as many others – about formal and artistic issues. He considered his duty as a writer rather in moral and civic categories. On the other hand, problems of art were not alien to him, as he often moved them in his works.
Death
Józef Łobodowski died of heart stroke on 18th April 1988 in Madrid. According to his will his body was cremated and the ashes were brought to Lublin and buried on 22nd October, 1988 in his mother's grave in the cemetery at Lipowa St. His friends from London and Paris took care of his literary output.
Anna Rogowska-Mrówczyńska, Aleksandra Zińczuk